Increase your fireplace's efficiency with a fireplace insert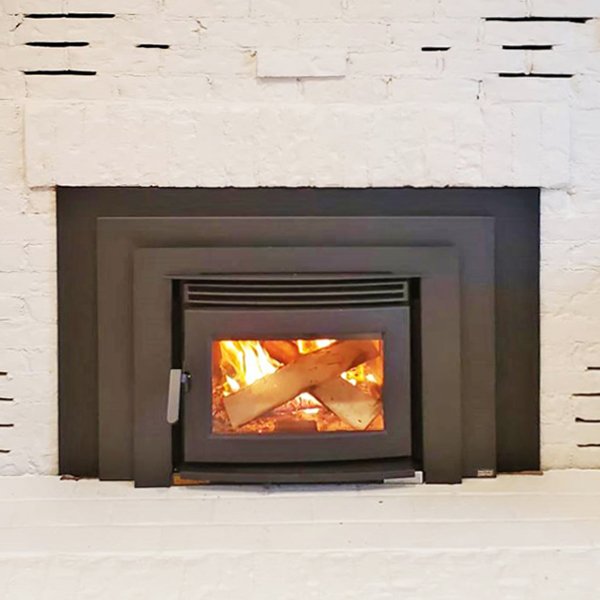 A fireplace insert is a great way to increase the efficiency of your existing fireplace. These fireproof boxes are usually made of steel or cast iron and glass, and are inserted and sealed directly into your existing masonry fireplace. By doing so, the insert plugs a hole in your home – sending its heat back into your room instead of up the chimney. 
It's estimated that fireplace inserts are 60-80% heat efficient, compared with traditional fireplaces, which are typically at around 20%. Inserts are low-maintenance and may just save you some money on your heating bills.
Fireplace inserts come in a variety of styles and with accessories for decorating your home, such as accent lighting. Inserts can be used with wood or pellets, gas, or electricity. A special chimney liner is required to use an insert, and your Flue Tech representative can further explain any modifications needed prior to the installation.
Wood fireplace inserts offer everything you love about a traditional masonry fireplace – the crackle, the comforting heat, and the ever-changing show put on by the flames themselves. Because of the closed combustion system, fires will require less stoking and effort to keep them going. Purchasing firewood in the off-season can save you money, and you'll always know that should the power go out on a snowy night, your home will have a natural heat and light source.
Gas fireplace inserts are slightly more efficient than wood, without the hassle of hauling and storing logs. Gas inserts blend the beauty of a natural fire with today's technology. Many come equipped with options such as remote control, battery backup in case of power outage, thermostat, and blower to help circulate heat into the room.
Electric Fireplace Inserts
Electric fireplace inserts are an efficient way to bring heat and flame effect into a room. They require no venting and are extremely low-maintenance. Many come with the option for flame only, in case you're looking for ambience and charm without overheating a crowded room.
Get Fast, Reliable Chimney Services Today